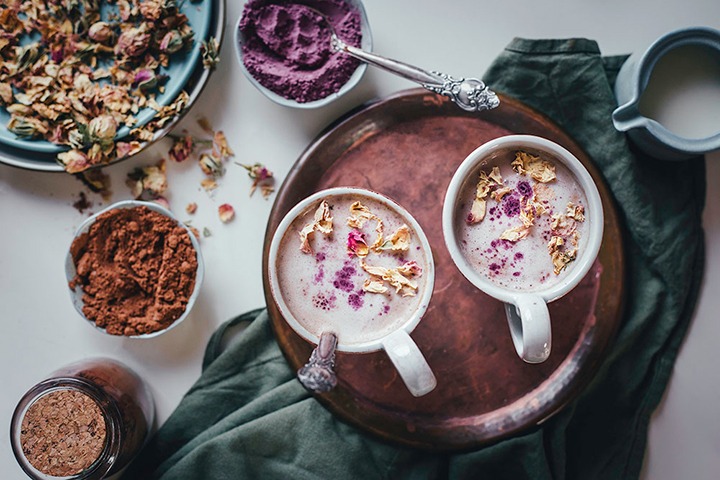 An amazing blend of herb powders to boost the immune system, detoxify and improve your skin. 
Start your mixture by adding to a large cup 1 tsp of sweet organic cocoa powder, 1 tsp. reishi mushroom powder, 1tsp coconut cream powder (optional). Add 100ml of water. In a different container heat the milk of your choice (vegetable milk of almond, oat, nuts) and after heating add ½ tsp. rose petals powder and whisk for a few seconds (like making foam milk for example). Finally add the milk mixture to the cup with the powders you made at the beginning. Garnish in your mix if you want with a little extra rose powder or rose petals. Make your mix beautiful… the essence is in all these little details. 
Did you know that roses is used as an antidepressant and against stress? It is rich in vitamin C and helps with anti-aging and collagen?
Why we add reishi powder to our drink: It is the top herb / supplement according to traditional medicine, but also it is a bank of nutrients as the researchers report contains more than 400 nutrients with exceptional benefits for the body, while the extracts from its seeds are up to 70 times more effective than the powder of his flesh. Ganoderma lucidum, as an adaptogenic herb is one of the mysteries of nature as adaptive herb.
These are herbs that provide to the body with exactly what it needs at the moment you take it. For example, an adapter suitable for blood pressure lowers its levels in hypertensives, but at the same time may increase its value in people with low blood pressure. Accordingly, an adaptogen suitable for fighting cholesterol is capable of raising "good" cholesterol without increasing "bad" cholesterol. Only 300 herbs have been identified in nature as adaptogens, topped by Ganoderma Lucidum, which helps the immune and nervous system, cardiovascular and cholesterol, menopause and arthritis, hypertension, allergies and asthma, and finally strengthens and the body to cope for everyday life.
In combination with cocoa, known for its antidepressant properties and antioxidant action, with just 1 tablespoon of cocoa powder we cover 3 to 9 percent of the recommended daily intake of iron, manganese, magnesium and zinc. Also it is rich in vitamin  C and caffeine (we do not drink it in the evening) but also we have a wonderful tasty drink in our cup.
You can add spices of your choice but also herbs such as nettle powder, calendula, aswaganda etc.