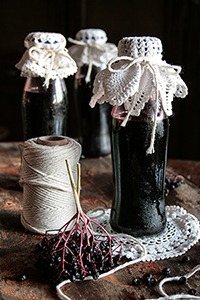 Elderberry- Sambucus nigra
"This plant of God heals anything it touches" Hippocrates
Today we are going to talk about elderberry. One of the most popular herb for it's history and it's properties. And while there are lots of ways to enjoy the healthful benefits of elderberries, one of the best-loved is the elderberry syrup.
Elderberries are rich in minerals & vitamins like A, B6 & C. In fact 1 cup of elderberry provide us with 52mg of Vitamin C. Also have anti-inflammatory, anti-rheumatic, antiviral and anti-cancer properties. Help to shorten duration of illness and make symptoms more bearable. It is also winter's and springs tonic especially for those who have allergies or asthma.
Elderberry is the star of this remedy as it has many beneficial uses for the onset of colds and the flu. This remedy tastes great and can be used for adults and children alike (please use maple syrup instead of honey for children under 1 year of age).
They can be used much like other berries in various recipes – scones, pies, cakes, muffins, jellies, and vinegars are some of the most common uses.
Why we are choosing elderberries except from their health benefits? For their taste!
The flavor of elderberries really shines with a little sweetening, which is why variations of elderberry syrup are used for purely enjoyable reasons, such as a topping for pancakes, oatmeal, or desserts.
So lets see how we can make the Syrup. There are a lot of different recipes that you can find with ingredients that you prefer, with herbs that you use or even with essential oils.
Watch the video here: 
 

ELDERBERRY SYRUP RECIPE to help boost your immune system against the common cold and flu.
Ingredients:
1 cup dried black elderberries

4 cups water

2 cinnamon sticks (we recommend Ceylon)

5 cloves

1 cup raw honey (choose also from our local special honey like thyme, oak, chestnut or for the most classic ones pine and flower)

1 lemon juice (organic)

Fresh or dry ginger (the quantity you like)

2- 4 tea bags of herbs for cold & flu blend (or any herb that you prefer)
iNSTRUCTIOS:
Boil the water with the elderberries, ginger, cinnamon, cloves, and lemon.

Bring to a boil then reduce heat and simmer for 45-60 minutes, cooked uncovered.

At the meantime make the infusion tea and leave it for 15-20 minutes. We suggest the cold and flu herbal blend or the dry cough blend that you can find them in our page. Of course you can add any type of herb for immune system and colds that you already have, like echinacea, thyme, peppermint, hibiscus etc.

Take this liquid blend and keep it for later.

Once the mixture of elderberries is reduced by half remove from the heat and allow to cool.

Strain the liquid and discard the berries, cinnamon stick, and cloves. Use a masher and mash the berries. Now put inside the tea that you make.

When the elderberry syrup is cool to the touch add in the honey (try to find clear and high quality honey) and stir until combined.

Pour into a jar and store it for 3 months or kept it longer though. Freeze if you're not feeling safe.

 

      
Dosage: 1tsp for kids (over 1 years old because of the honey), 2tsp for adults, Take 2-3 times a day once a cold has set in.
Elderberries Soothing Throat Drops
THEY SOOTHE A SORE THROAT AND BOOST THE IMMUNE SYSTEM, and very tasty!
You will need:
1 cup of the Elderberries syrup

1 cup raw Honey

Rosehip powder (otional)
Whisk tea, syrup and honey together.

In a heavy bottomed pot, allow it to cook until it reaches 148 degrees. Over 148degrees you will burn the caramel.

This can take 20- 30 minute or longer but just be careful and patient. 

Pour at a greaseproof paper and allow to set.

Put the rosehip powder (vitamin c), when it is cold

Wrap individually in wax.
All the ingredients of the recipe you can find them in our page, always offering the best quality!
Elderberries (myrro.gr), Cold and flu (myrro.gr), Dry irritating cough (myrro.gr), echinacea herb (myrro.gr), Peppermint leaves (myrro.gr), Immune stimulation (myrro.gr), ginger powder BIO (myrro.gr), ceylon or real cinnamon (myrro.gr), cloves whole BIO (myrro.gr), Honey greek (myrro.gr), rosehip powder BIO (myrro.gr)